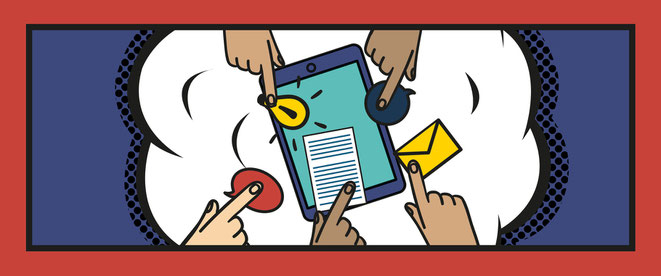 The wait is over! We are happy to share the first version of OPIN with you! What does the platform entail so far? OPIN is based on two existing tools, which complement each other: the software Adhocracy, developed to smoothen and open up democratic discussions, and the mobile application FlashPoll, enabling quick contextual mobile polling. Both applications will be available for public administrations, youth and youth work organizations of any size and level to set up participative processes.
Adhocracy – Simplifying Online Discourse
Adhocracy is an Open Source participation software developed by the Berlin based Liquid Democracy e.V. It provides OPIN with web-based functionality for online discourse, text editing, and decision-making. Its processes and functions were especially adapted to meet the needs of young users. OPIN will start with two basic Adhocracy participation processes: idea collection and collaborative text work.
Idea collection is a generic process, in which youth is either consulted on a specific topic, during agenda-setting or open topic research. OPIN enables to develop proposals, comment on existing ideas and vote on them. This can be of great use for either municipal administrations, youth organizations or educational institutions.
Collaborative text work is especially helpful for those youth councils, administrators or youth organizations, which frequently develop position papers, statements or working programs together with young people. The process allows initiators to set up a text draft, invite youth to comment on each paragraph and to vote upon the best comments – and all that in real time.
FlashPoll – THE Solution for Mobile Participation
FlashPoll supports decision-making by fast polling: it enables large numbers of people to instantly give their opinion and immediately visualizes feedback in the back end. Additionally, it allows creating professional surveys with open questions. Why is it THE solution for mobile participation? The app's geo-location awareness allows for pushing polls at defined moments and places. It provides an interactive, two-way system of communication between youth and decision-makers, while meeting high standards in terms of quality of public participation. On top of this, FlashPoll implements privacy by its design: The responses cannot be traced back to users or their devices.
Since the first phase has been launched, the pilots of the EUth Living Lab are and will be testing the abovementioned features of the toolbox. OPIN.me is being developed in the framework of the research and innovation project "EUth - Tools and Tips for Mobile and Digital Youth Participation in and across Europe". Hence, more features will be released in the second phase in early 2017.