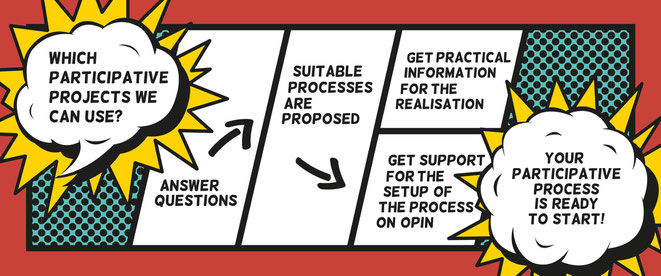 What is it?
The Decision Support Tool - short DST - is a valuable feature of OPIN, which helps initiators of online youth participation projects to decide on the type of participative method. Its design, like a questionnaire, provides a user-friendly way to quickly gain an overview of the most suitable method(s) that match the initiator's needs, taking into consideration individual outset criteria. Instances of which could be: the number of participants involved, the designated time-frame of the participative process, its topic as well as goals, which are aimed to be achieved.
Why is it needed?
When it comes to planning and organizing participative processes, it is not always easy for the initiators to come up with methods that fit best to the given situation. Yet, the method used is a vital determinant of the process outcome and therefore has to be chosen wisely. OPIN's Decision Support Tool will help our clients to find their way through the jungle of participative methods. It provides the users with a comprehensive overview over the best-suited options, according to individual needs and thus helps to create more successful processes from the outset.

What about the details?
Having found the right method still does not guarantee that the participative process will be successful. Furthermore, it is necessary to keep organizational aspects in mind. Therefore, the Decision Support Tool additionally provides practical information on, for instance, how to recruit participants or the selection of a suitable location, that match the needs of our clients and their target-group. Coupled with the support OPIN provides on setting up the process, this will help from day one of the planning up to the completion the participative process.