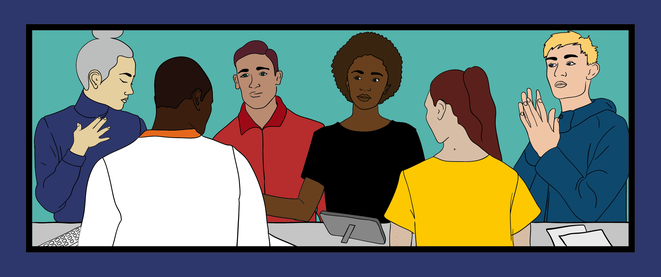 The Advisory Board of EUth consists of six members, among which are three youth representatives as well as experts on youth work and participation, data protection and ethics, and European administrations. They are regularly gathering in conjuncture with project meetings or workshops and provide feedback to the project partners. Over the next months we will publish interviews with all members of the Advisory Board. So, watch this space!
Selection Procedure
In order to assess the project's development and set purposeful goals, a permanent feedback channel between the EUth project partners, experts and youth representatives needed to be established: the Advisory Board. Therefore, potential members were proposed from EUth's network of experts with a matching work portfolio. For the youth representatives, additional criteria such as the level of interest, gender and geographical distribution were considered. Each project partner voted for six candidates from the established list. The elected Advisory Board members are free to be part of the Advisory Board until the project´s termination.
Core Tasks and First Activities
The tasks of the Advisory Board are providing feedback on the project's key activities and deliverables, advising the EUth coordinator on steering the project as well as discussing key topics and emerging issues. Beyond this, members of the Advisory Board also frequently share their expertise and provide input during specific topical sessions.
The Consortium meeting in Brussels in April 2016 was the first meeting the Advisory Board was present at and actively contributed. During this workshop its members stimulated a lively discussion about the improvement of platform´s usability and the use of communication tools and marketing strategies. The project partners voted upon these suggestions and the chosen tips and ideas will be incorporated into the next release of the OPIN platform.
Project coordinator at nexus, Kerstin Franzl sums up: "The feedback from the EUth Advisory Board is very valuable to the project: We have learnt a lot about the strengths and weaknesses of the platform from the perspectives of young people and experts. This will not only help to make the platform more appealing and safe but also to set strategic development focuses, which makes OPIN going beyond the current limitations of eParticipation platforms."