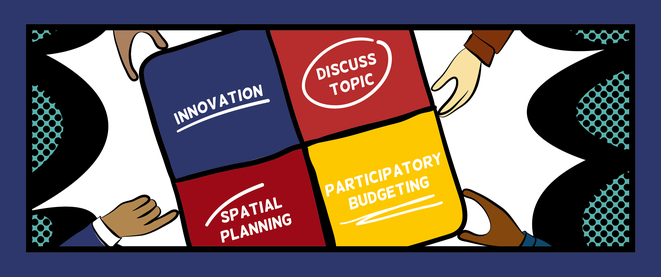 Recently we published part one of this article, introducing the first findings of an analysis of commonly used youth participation process types across Europe: "Innovation", "Discuss topic", "Spatial planning" and "Participatory budgeting". In the following, their building blocs as well as dominant combinations of these building blocs (marked in red) will be presented.
Process Design: "Innovation"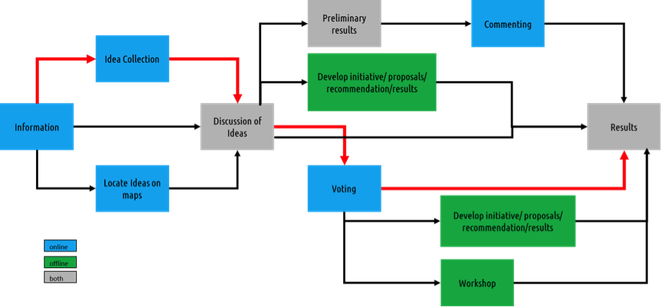 While different structures were found for this type, a dominant structure could be observed. It starts with online building blocks, providing all relevant information and continues with idea collection. Afterwards these are discussed, both online and face-to-face, followed by online voting on proposed ideas. The results are, in turn, presented online and offline. Sometimes a second face-to-face element is included after this phase, in order to further develop the results in greater detail. This could also be realised online, by using a commenting function.
Process Design: "Discuss Topic"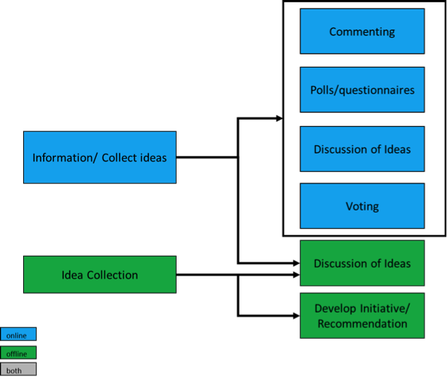 Rather than a dominant combination of online and offline building blocks, we found three main approaches: the first one concentrating on the online level, the second focussing on face-to-face events and a third combining both levels. All processes are divided into two parts: firstly, information on the process is provided and ideas are collected, secondly proposed ideas are discussed - in workshops or online. Frequently, different online-elements are utilized. Besides discussion and commenting of ideas, questionnaires or polls are used to receive an overview of the participants' opinions, while voting on proposed ideas aims at achieving final decisions.
Process Design: "Spatial Planning"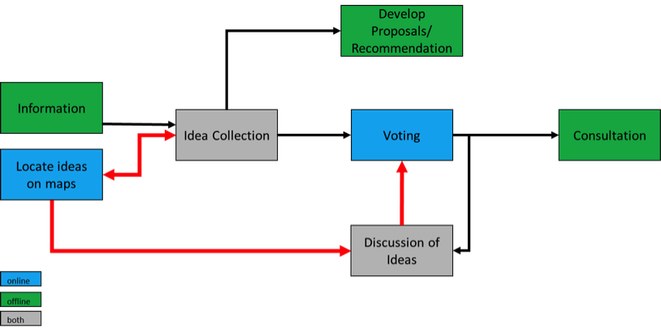 For this type, we found a dominant combination that starts with an idea collection phase - online and in offline events. The proposed ideas are located on online maps so that everybody involved can easily get an impression of proposed changes. Thereafter, the ideas are discussed, both online and offline, and the process ends with an online voting on the proposed ideas. Alterative combinations include additional face-to-face elements, where the ideas are developed further or discussed to find a final proposal, which is supported by many participants (Consultation).
Process Design: "Participatory budgeting"
Although we found two different combinations for the participatory budgeting, the differences between them are very small. The process starts with an online and offline idea collection phase. It continues with a face-to-face event where the ideas are either discussed or further developed. The results are subject to online and offline voting. The whole process ends with an offline evaluation of the process and its results.
Within the next months, the EUth consortium will discuss how the results of the analysis presented above will influence the development of participative processes for the next iterations of OPIN.