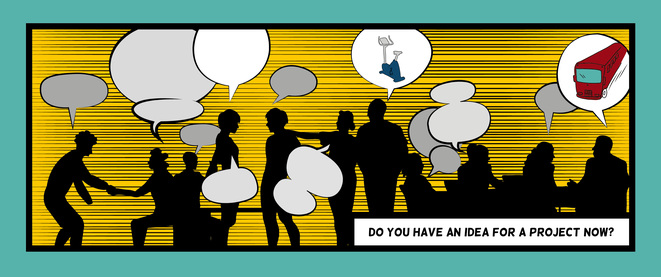 In this article we introduce two good practice examples of successful eParticipation projects that are still underway but have already shown positive results. These projects can serve as inspiration for your own future project.
Example 1: Youth Participation in the Municipality of Offenbach an der Queich
The association of municipalities in the southwest German Offenbach an der Queich aimed at the establishment of continuous youth participation. Since the projects start in 2013, the municipality's youth office is in charge of setting up and facilitating online and offline youth participation processes. The main idea is to offer young people living in the municipalities a space to voice their wishes, collect ideas, discuss and vote on them. After the voting phase, winning ideas were assessed according to their feasibility and – so far – the youngsters were successful in improving bus connections as well as building a public outdoor fitness space.
As online-tools to facilitate discussion and voting, a Ypart page as well as Facebook group were used. Offline-meetings and school workshops ensured to keep in contact with the youngsters and inform them about the developments. For future projects OPIN would be a good alternative as its tools provide online-brainstorming, commenting as well as polling functions all in one toolbox. Furthermore, the upcoming mapping tool could be utilized by young people to mark those places of the municipality on a digital map, where they would like something to change.
Example 2: Structured Dialogue – Implementing the EU-Youth-Strategy
In 2010 the Structured Dialogue was started EU-wide in order to facilitate youth participation at the local, regional but also national and European levels. A crucial element is the frequent exchange and dialogue between youngsters and political decision-makers. Each Structured Dialogue is divided into 18-month phases, with one main thematic priority, during which workshops and (online) discussions take place in the EU Member States. Phases close with a EU-Youth Conference, where the results are discussed and shaped into recommendations to the EU-Youth Ministers, Member States as well as the EU Institutions.
While methods and processes in the different countries are diverse, in Germany for instance, idea collection and brainstorming as well as voting takes place on a central online-platform based on the ePartool (https://www.strukturierter-dialog.de/mitmachen).
Similarly, the OPIN toolbox can be utilized for a variety of participatory projects, encompassing the following features: (1) collecting ideas and/or proposals; (2) rating of and commenting on ideas/proposals; (3) commenting on existing texts; (4) mobile polling, for example for voting. From March 2017, OPIN may also provide participatory budgeting and a mapping tool.
Do you have an idea for a project now? Find more information about the Open call here.