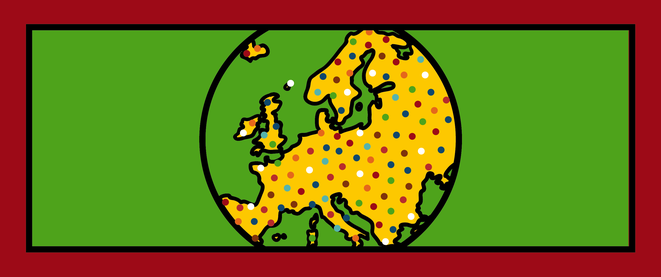 One of the EUth Pilots is the European Students' Forum AEGEE. It has been and will use OPIN to improve its communication and discussion processes with its over 13,000 members.
OPIN brings AEGEE "one step further"
AEGEE is one of Europe's biggest interdisciplinary student organisations, striving for a democratic, diverse and borderless Europe. The association strengthens mutual understanding among young Europeans and brings Europe closer to young people. Online tools are vital to coordinate the activities of AEGEEs network, as it includes over 13,000 youngsters, from 200 cities in 40 countries all over Europe. "With OPIN, we aim going one step further: Opening AEGEEs decision making process – to render it more accessible, overcoming time limits and geographical barriers", says AEGEE Europe Project Manager Andrea Ferrara.
AEGEEs efforts to use OPIN – in various contexts on different levels
OPIN became an integral part of AEGEEs biggest statutory events, the Agorae (general assemblies) in Kiev and Bergamo, respectively in October 2015 and May 2016. During those events the AEGEE board presented OPINs current and future features to its members and additionally reported about AEGEEs role in contributing improve the platform to become best suitable to the needs of young people.
Additionally, AEGEE organized ten Capacity Building Workshops during its Network Meetings (regional meetings taking place twice a year, gathering together the most active members) as well as during the "European Planning Meeting", which took place in Leiden in February 2016. The main objectives of these workshops were to reach multipliers in order to promote OPIN and eParticipation in their local communities and discuss, which current offline discussions of AEGEE could be carried out on the platform in the future. Furthermore, the AEGEE locals in Aachen, Bergamo and León also tested OPIN for their internal discussions.
OPIN was also utilized at the "Ideas Factory" in León in September 2016. In particular, the mobile polling feature gave AEGEEs members the opportunity to decide on the associations' 2017-2020's goals and objectives. By using OPIN not only people, who where physically present at this event, but also other members from all over Europe could be involved in deciding on AEGEEs priorities from the coming years. "Our objective was to enlarge the democratic basis of our networks' decisions. With the help of OPIN we started using some direct and digital participation tools and processes that we would like to see also in other political contexts for decisions that affect us all", concludes Andrea Ferrara.