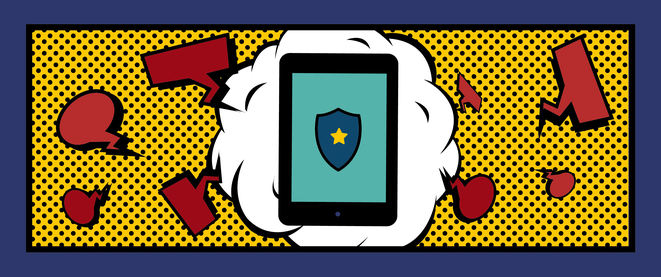 EUth is taking privacy and data protection very seriously – we believe that these are essential components of eParticipation processes, especially when it comes to involving young people online. Both aspects have been considered since the early phases of the project. We ensure a high level of privacy and data protection on the OPIN platform by using adequate technical means and by providing tips for users. Read here why privacy and data protection are important to us and how OPIN ensures this in eParticipation projects.
Why privacy matters in participation processes
There are several reasons why the EUth project partners are advocating privacy and data protection in (digital) youth participation. The most important one is that we want participants of discussions to feel free to express their opinion openly. Freedom of expression might be a human right, but as Freedom House states, this right is in decline around the world. Political discussions can be very sensitive, so to give everyone the opportunity to participate freely, protecting privacy is essential on OPIN. On top of this, OPIN and EUth believe that young people deserve a special protection of their data and their expression of opinion, because their age and limited experience makes them vulnerable. Last but not least we want to take the burden off youth workers (or others who initiate eParticipation projects) to worry about hyper complex legislation and hidden traps in cyber space: OPIN is a fully legally complying software and our guidance will help project managers to be on the safe side when it comes to questions of moderation, community management, and other key issues.
Things to know about privacy and data protection: Technology and the human factor
Technology – making OPIN a safe place
A safe digital space for online discussion is based on two pillars. On the one hand, there is the architecture of this space – the software, which is supposed to treat data responsibly and support users' privacy. Check out the current full version of OPINs Privacy Policy.
First and foremost, the OPIN platform and its software comply with the European data protection legislation as well as with the German Federal Data Protection Act (BDSG), which sets out rules for collecting, processing and using personal data. The BDSG sets out, for instance, that the collection of personal data ought to be minimized – that means only the information absolutely necessary shall be collected. Additionally, collected data must be anonymized or pseudonymized. Furthermore, the BDSG lays out considerable rights of citizens. For example, they have the right to receive information about, which of their personal information is stored by a company or administration, and to request the deletion of their data that is being stored.
Yet, instead of just complying, OPIN even goes beyond these regulations: Data submitted via OPIN is stored on servers in Berlin and is not passed on to third parties. Furthermore, registering on the OPIN platform only requires an e-mail address, a password and a username, which can be a pseudonym. This ensures, that only little personal data is gathered from the user during registration. By default, OPIN uses an encrypted https-protocol for secure communication. Also regarding its terms and conditions, OPIN follows the principle "keep it short and simple" and its privacy policy is clear, concise and comprehensible.


The "human factor" – duties of initiators
Yet, in eParticipation processes it is not enough that the technology behind it makes the OPIN platform a safe place. Safety also depends on the users themselves and on you as an initiator. In youth eParticipation it is one of the main responsibilities of the initiators to create and maintain a context – or culture – in their project, urging the young users to act in a way that complies with privacy and data protection regulations and is ethically acceptable. We offer safe software and help you to maintain such a culture.
In this regard, EUth strongly recommends advising participants (under 18) to choose a pseudonym and not to disclose personal information about themselves or others on OPIN. Tip: Discuss the pros and cons of using a pseudonym vs. using the real name with the youngsters participating in your project (for example: anonymity ensures free speech but might also make us meaner; using our real name lends our contributions credibility but also easily allows for cyberbullying and sanctioning for posts). We also advise to use a strong und unique password, which is easy to remember.
Equally important is careful community management – this does not only mean to steer the direction of the discussion if necessary, but also to closely observe what the youngsters are posting as well as and removing posts, which contradict the code of conduct.
Another challenge you could be facing is age control – if very young people (under 13) are participating. Age control has proven to be quite difficult because parental consent cannot entirely be ensured online. When a project is addressing very young people and consent needs to be provided, we advise you to combine online participation with an offline event, where youngsters can bring their parents and the consent can be given in person.
Finally, as an initiator, think twice about debating sensitive topics online – expressions of viewpoints can be extreme, which could increase misunderstandings and hate speech. Consider discussing these issues in offline settings instead. This way you will be able to address upcoming problems immediately in person.
Last but not least: If you do collect personal data from your participants, you are legally obliged to keep it separate from information gathered during offline events. You also may not share their personal data with third parties.
These are just glimpses of the privacy and data protection guidelines and the platform itself, OPIN is continuously working on becoming even more safe and comply with the new EU privacy and data protection regulation, which will apply from May 2018.
A helpful link: Safe Web Surfing - Top Tips for Kids and Teens Online: