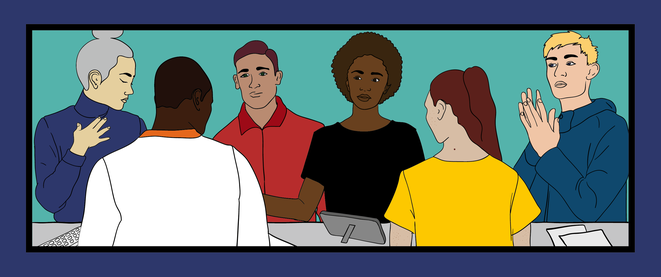 By Flore De Pauw, EUth journalist
Youth eParticipation isn't a top-down process. There are many examples of young people who have themselves developed eParticipation tools. One example is Belgium-based MVSLIM.com - recently selected by 'Forbes Under 30' of young talents. They are selected because their ideas are seen as pioneering and refreshing.
The main goal of the platform is to enrich the view of Muslims in modern society but also gathers people in real life. The platform was created by Hanen Challouki, a student of communication sciences, along with Taha Riani who studied strategic communication. They released their idea in 2015 with the goal of changing stereotypical views of Muslims.
Challenging stereotypes
Today the platform has millions of visitors and is supported by hundreds of volunteers in more than 35 counties. On MVSLIM.com, a variety of topics are posted, such as articles on inspiring Muslim-women, articles on the hijab and history but also more light-hearted articles like '7 times everybody thought Drake was a Muslim'.
The articles are written by contributors from all around the world. In this way young people are offered a platform to discuss or to inform others. MVSLIM.com doesn't focus on religion because both Challouki and Riani think that religion is a personal matter.
Everyone has their own way of practicing religion and MVSLIM.com wants to show that there are other aspects that are equally important. MVSLIM.com does focus on Muslim-related topics, but that doesn't mean the platform is exclusive only to Muslims. Their target group are mainly Millenials but they all have different backgrounds.
The website wants to 'make the world of Muslims more accessible to others'. The platform wants to show that being a Muslim is much more diverse than what is sometimes assumed.
Taha Riani and Hanen Challouki were in their twenties when they started the website. Young people do have something to say, a sentiment picked up on by The Guardian and New York Times who have also published content from MVSLIM. Since the 'founding fathers' are millenials themselves, they are aware of the importance of social media and grew up with these channels. The website has a great reach, particularly on social media. They have adapted a way of communicating to an international audience, with one third of their visitors are people from the US.
The success of MVSLIM has led to an offline initiative called 'MVSLIM connects'. The main aim of the event being to bring people together.
Representation
The question is: do Western media cover all aspects of Muslim society? And does the Muslim youth of Belgium (and other European counties) feel correctly represented in the media? To answer in the name of all young Muslims is of course impossible, but Challouki and Riani started MVSLIM.com because they felt like Muslims were one-dimensionally portrayed in classic media according to existing stereotypes.
Since the events of 2015 in Belgium, some violent individuals are seen as representing an enormous group of people and that image is hard to adjust. Fear persists. On the other hand, there is a group of young Muslims who are growing up in Belgium. MVSLIM.com writes: "A positive identity development is crucial for young people across the globe. Being labelled because of one part of who they are, makes young people nervous and insecure."
Since mainstream media can't focus on one subject or target group, organisations such as MVSLIM.com are welcome. Because a platform like this has been created by young people who themselves struggle with representation in media, they can tackle this problem effectively and on their own terms.
MVSLIM.com is ambitious. They want to set up international offices and are thinking of creating a French platform. Put simply: they are not planning on slowing down any time soon.
This article is a result of a cooperation between European Youth Press and the project "EUth - Tools and Tips for Mobile and Digital Youth Participation in and across Europe". This project has received funding from the European Union's Horizon 2020 research and innovation programme under grant agreement No 649594. This article reflects only the author's view and the Research Executive Agency or European Commission is not responsible for any use that may be made of the information it contains.