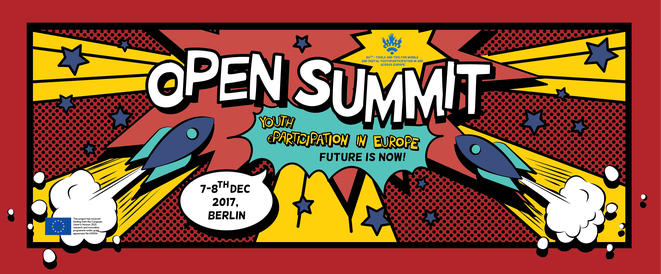 By Anna Romandash, Irene Dominioni, and Stefan Alijevikj, EUth journalists
"What is going to happen to the Internet in their near future affects how young people will participate," says Ceren Unal, a keynote speaker from the Internet Society. She opens the second day at the #OpenSummit, describing the research her organization conducted on the future of the Internet. The study, conducted in 2016, took 11 months to complete, and involved around 3000 respondents from the government, human rights advocates, NGOs, youth, and Internet experts.
"We believe the core thing is to put humanity in the center of Internet, which belongs to everybody," Unal continues. The research showed that the users generally wanted the Internet to become more "human", accountable, and take a collaborative approach to security, so different stakeholders share roles and work on Internet safety together. The other needs include new social norms, that have to appear on the Internet, and give people more power to shape their future.
"Many young people describe internet as life," Unal adds, "Youth from developing countries were very optimistic about Internet and its development while developed countries were a bit more skeptical". She points out the concern about the security divide, that may materialize between those with knowledge and those without when it comes to Internet use.
Unal's speech was followed by a panel discussion with Solana Larsen from Mozilla Foundation, David Jinjikhadze, OPIN pioneer in Georgia, working for LEPL Children and Youth National Center, Edgar Schlummer representing Estonian Youth Work Centre (Estonia holds Council of EU presidency), and Unal herself. The participants discussed different ways Internet is changing, and the new challenges and opportunities it creates.
Larsen addressed the need to have "Internet users who are not just recipients of information, but also creators," while Unal pointed out to the new security threats that haven't existed before: "Our smart devices can be hacked and you don't even realize. That's why security by design is essential to minimize risks."

Larsen has also shared her opinion on the security threat matter: "I think young people are keenly aware of threats online, even more than adults." After which, Unal has further remarked that youth are not so much afraid of threats in internet as governments are, and that youth perception is different than other generations, as they do not know what "analog privacy" is. She has remarked that youths have been brought in a world of digital technology and the only privacy they've known should be sought in the frames of that world.
Unal has concluded at the plenary: "It is not all rainbows and unicorns, there are threats but we should focus on the opportunities."
Shlummer talked about the ways youth could be prepared to deal with the potential threats: with the help of "media-literacy, data awareness, and training of youth workers." He has also made a witty remark: "Young people are not only online or offline - they are on-life."
Finally, Jinjikhadze addressed the way eParticipation is happening using the example of his own country: "The idea of eParticipation is in embryonic phase. We need to see how it works before we make it into a habit". According to the speaker, eParticipation should not be focused entirely on the politics, but remain issues-based, so young people do not feel tricked into politics if this is not what they want to participate in them.
As the panel discussion concluded, participants headed for the Sharing sessions to discuss eParticipation and Internet-related topics, working and participating in group dialogues. The event concluded with a media presentation by the EUth journalists covering the event, an evaluation session which was conducted by using the OPIN app, and a closure address by Kerstin Franzl, EUth coordinator.