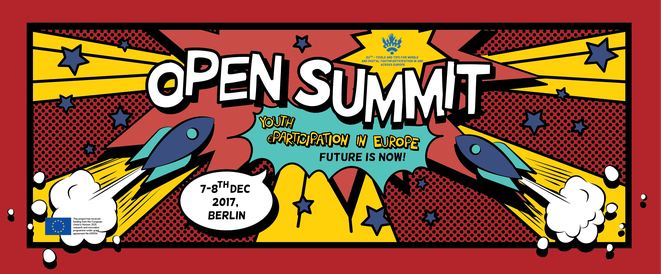 Bonn, 5th December 2017. How to get more youngsters actively involved in political decision-making? In the past two years the European innovation project EUth intensively engaged the field of youth eParticipation and developed the unprecedented digital participation toolbox OPIN, which is adapted to the needs of young people and supports the setup of participation projects. On the 7th and 8th of December, the project partners and 15 pilot projects will present their results and the final version of the online platform at their Open Summit in Berlin. On this occasion over 140 youth eParticipation practitioners, researchers, developers, policy-makers and young people from all over Europe will get together to discuss the future of youth eParticipation.
In the centre of day one of the Open Summit are four working groups, discussing the issues of Development, Synergies, Impact and Tools and will be elaborating recommendations for the advancement of the youth eParticipation field. The key questions posed are: How to enable more eParticipation? How to make citizen participation more attractive to youth? What can youth participation learn from citizen participation? How to embed new communication channels into (old) traditional structures of decision-making? How to combine online and offline methods? During a subsequent panel discussion with speakers from different backgrounds immediate reactions to the recommendations will be provided. Members of the panel will be Raul Broto Cervera (Mollet del Vallès municipality), Ellen Durst (European Commission), Yannick Furgal (Paris City Youth Council), Davide Mazzoni (CATCH-EyoU representative), Claudia von Bothmer (Telefónica).
The second day of the conference will focus on youth eParticipation in practice. During self-organised barcamp sessions, participants will share their experiences. Highlight of the day will be the presentation of the Global Internet Report 2017 that the Internet Society will for the first time hold in the field of youth work. Which impact the Internet will have on digital participation is the core topic of the following panel discussion with Solana Larsen (Mozilla Foundation), David Jinjikhadze, (LEPL Children and Youth National Center of Georgia), Edgar Schlummer (ENTK, Council of EU presidency, Estonia). Furthermore the Horizon 2020 project STEP, involving young people in environmental issues, will share the experience gained.
Interested? Plenaries can be followed remotely on facebook.com/euth.net via live stream! You can also have your say on discussion topics by brainstorming on OPIN!

---
OPIN – The all-in-one Toolkit for eParticipation
The youth eParticipation toolbox OPIN combines a multilingual online-platform with a mobile application. It offers a wide range of assistance for initiators of participation processes. The features of OPIN help consulting youth during agenda-setting or idea collection, enable to collectively draft, comment and vote on proposals or position papers. Additionally, the platform offers a mapping tool and is connected to a mobile polling tool that facilitates reaching youngsters within a certain geographical area. And the best: Online and offline phases can be combined into a multi-tier participation process. The platform was tested and evaluated by experts and youngsters from all over Europe throughout its development in real-life settings. This significantly increased the quality and comprehensiveness of the toolbox. From 2018 the software will be fully available and ready to help you to involve youngsters in eParticipation projects.
EUth – Tools and Tips for Mobile and Digital Youth Participation in and across Europe
EUth is a European-wide research project (2015-2018), which is supported by the European Union research and innovation programme Horizon 2020. Read more here.
---
Contact:
Evaldas Rupkus
Project Manager for Marketing "EUth - Tools and Tips for Mobile and Digital Youth Participation in and across Europe"
IJAB – International Youth Service of the Federal Republic of Germany
Godesberger Allee 142-148, 53175 Bonn, Germany
tel.: +49 228 9506-114, e-mail: rupkus@ijab.de